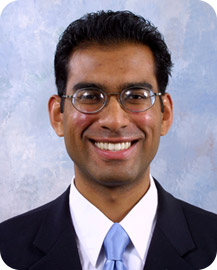 Dr. Solanky values excellent dental care and works hard to provide this for his patients. Dr. Solanky is a graduate of Loma Linda University School of Dentistry, where he received his doctorate in dental surgery. He is a member of the American Dental Association, Marion- Polk-Yamhill County Dental Society and Academy of General Dentistry.
Dr. Solanky is continually seeking knowledge to better serve his patients and provide the newest techniques dentistry has to offer. A native Oregonian, Dr. Solanky enjoys the outdoors, church activities and community functions. "I am proud to serve our community. My staff and I want to offer you and your family the highest level of care. We are dedicated to making your visit comfortable and we are committed to your dental health."
What Our Patients Are Saying...
Thank you so much for what you have done for my mom! She sent me the pictures of her teeth, and that is just amazing! She can't stop talking about how good it has made her feel having the work done. She also cannot stop talking about how wonderful you are! Thank you again!!
- A. H.
I am a 65 year old woman who has been afraid of the dentist as far back as I can remember. Maybe if I had someone like Dr. Solanky taking care of me, things would have been different. I moved to Salem nearly three years ago, and it took two of those years to get up enough nerve to see a dentist. Luckily, it was Dr. Solanky that I called. I needed a lot of work done and I was frightened to go to another new dentist. It was the best decision I have ever made. Dr. Solanky is kind, gentle, and the most thorough doctor I have ever had. He works with you to be sure you are comfortable and never in pain. I am moving away and I wish I could take him with me! He is the best and his staff compliments him. I recommend him highly for both his talent as a dentist and a caring person.
- A. D.
I had a tooth go Mt. St. Helens on me and rather than get something done, I ignored it until the nerve became exposed and I had to do something. I was anticipating getting the tooth pulled, but Dr. Solanky informed me that he could save the tooth with a root canal so we did that. Pain management is extremely important to me and he and his assistant were very attentive and cognizant of any pain I was feeling and immediately stopped and administered more anesthetic. My comfort was clearly one of their top priorities. The root canal went very well, and I now have a crown that blends perfectly with my other teeth! Great experience and couldn't recommend this dental practice and Dr. Solanky and his assistant, Snahal, more strongly!
- T. A.
Just got another thorough cleaning and my teeth feel great!
- J. H.
Highly recommend Dr. Solanky. He and his assistant are very kind and gentle.
- H. D.
Dr. Solanky is always kind and answers any questions I have and I always leave in a better mood than I was in before I came. My teeth are looking fantastic! The office atmosphere is professional and it is always very clean.
- J. P.